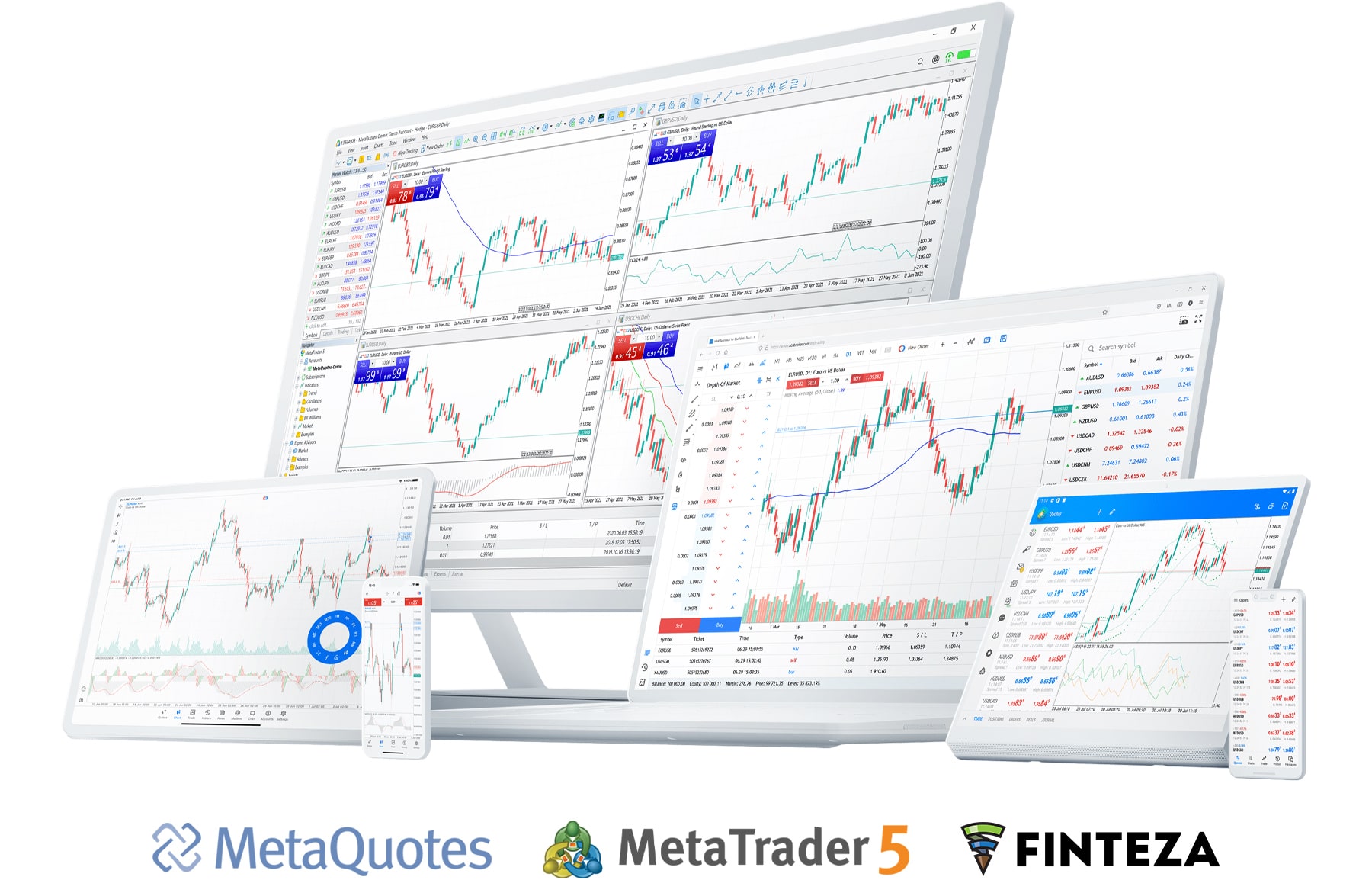 Use these free resources to reference MetaQuotes or its products in publications, and provide trading platform descriptions in your website, or create high-quality promotional materials. The set contains HiDPI images related to MetaQuotes, MetaTrader 5, and Finteza in different design styles, including desktop, web, and mobile display versions. We have prepared separate mockups for each version, including light and dark themes, and have created collages and ready-made compositions for different devices. Logos are available in vector versions, while other images are provided in PNG format.
MetaTrader 5 Desktop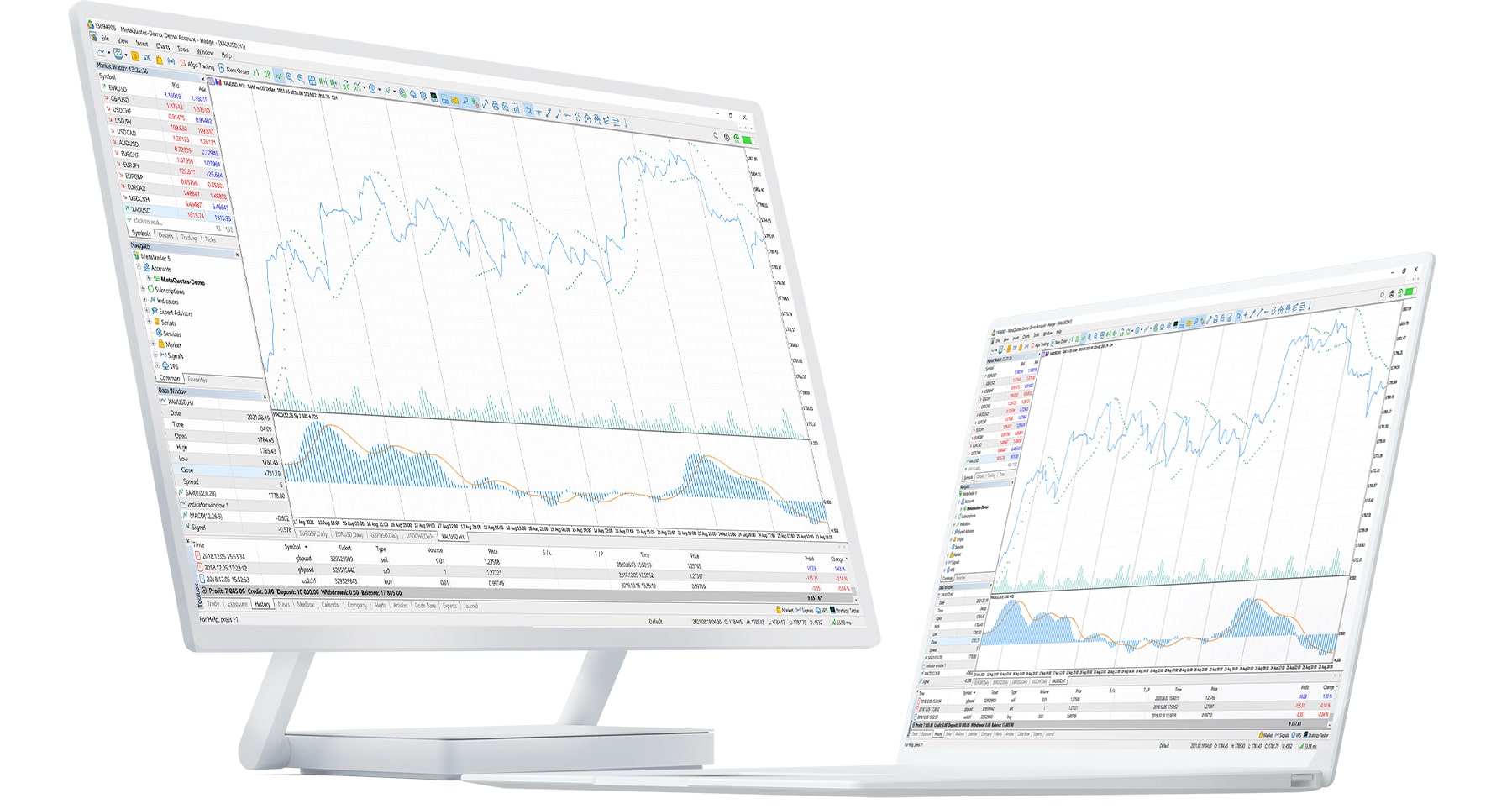 The latest-generation multi-asset trading platform has become the new industry standard, driven by pioneering technological solutions and constant updates. Millions of traders and thousands of financial institutions from all over the world trust our products and use MetaTrader 5 every day. The platform's global acclaim is confirmed by its consistent recognition at international industry exhibitions, where it receives prestigious awards year after year.
MetaTrader 5 provides a comprehensive array of trading tools for various market scenarios, accompanied by powerful analytical capabilities which assist in improving performance results for investors and financial companies. The platform delivers a powerful trading system with the Depth of Market feature, providing separate accounting of orders and trades. It supports two order processing systems: netting and hedging. Four execution modes are available to meet various trading objectives: Instant, Request, Market, and Exchange. The platform supports all trading order types, including market, pending and stop orders, as well as trailing stops.
MetaTrader 5 allows the simultaneous opening of up to 100 currency and stock price charts. The 21 timeframes enable comprehensive, detailed analysis of all minor price movements. More than 80 technical indicators and analytical tools provide deep market analysis. The platform receives news reports from global agencies, while the built-in economic calendar displays major macroeconomic indicators for comprehensive fundamental analysis.
The institutional multi-asset MetaTrader 5 platform provides everything needed for the best financial trading experience. Flexible trading system, technical and fundamental analysis, professional MQL5 development environment, multi-currency tester, and alerts: all these tools are available in just a click. The platform interface is available in 51 languages.
Download MetaTrader 5 Desktop Media Gallery
MetaTrader 5 Web Terminal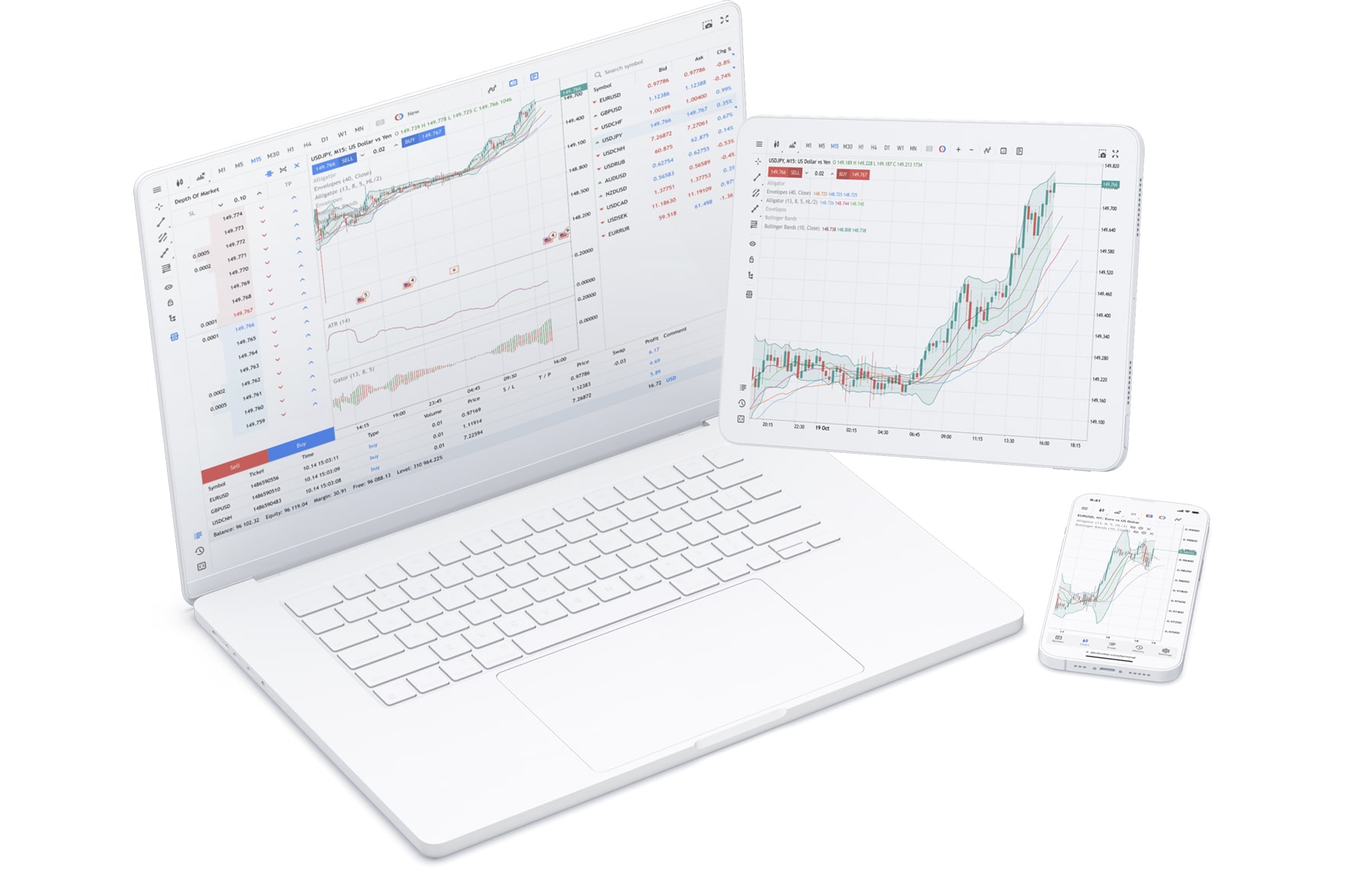 MetaTrader 5 Web Platform enables financial trading from any web browser on any operating system. Professional trading does not require the installation of specialized software applications: the widest functionality of MetaTrader 5 is available to users anywhere and at any time. Users are able to access financial markets in just a couple of clicks. All they need is internet access. All data in the platform is securely encrypted, so the web version of the platform is completely secure even if traders use someone else's device.
The MetaTrader 5 web platform is a universal solution for macOS, Linux, and Windows users. Use your favorite browser for analysis and trading: from Google Chrome and Safari to Edge, Opera, and Firefox. For instance, by using any available device, you have the opportunity to view quotes or close your open trades very quickly. Users of iPhone and Android devices can get full access to the trading platform anywhere at any time — the web version is adapted for iOS and Android OS.
Download MetaTrader 5 Web Terminal Media Gallery
MetaTrader 5 Mobile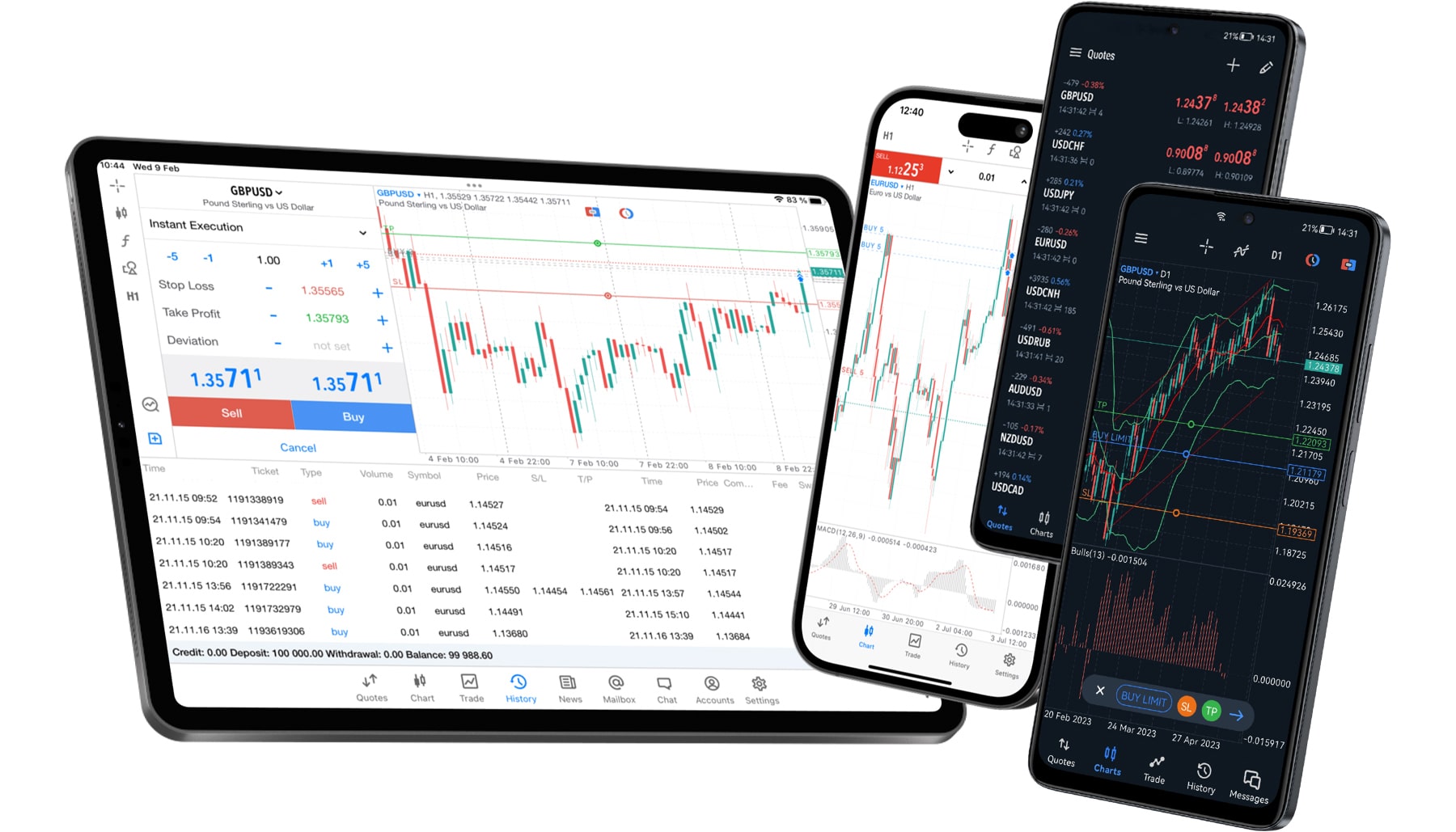 Free MetaTrader 5 iOS and MetaTrader 5 Android apps are designed for seamless trading on iPhone, iPad, and Android devices. These mobile versions provide practically the same capabilities as the desktop application, enabling users to manage their accounts, trade in financial markets and analyze quotes using technical indicators. The distinctive features of mobile versions include low traffic consumption and advanced functionality, tailored to meet the comprehensive requirements of modern traders. To ensure the best user experience, the mobile versions are optimized for the specific device type they operate on, including iPad.
Download MetaTrader 5 iOS Media Gallery Download MetaTrader 5 Android Media Gallery
MetaQuotes Ltd

For over 20 years, MetaQuotes has been developing software applications for brokerages, banks, exchanges, and hedge funds. The company's products are utilized daily by millions of users and thousands of financial institutions. The MetaTrader 5 trading platform, our flagship product, has become the industry standard, pushing outdated and inefficient platforms out of the market. With continued community support, the company has built an unparalleled infrastructure around MetaTrader 5, which is trusted by tens of millions of traders. MetaQuotes has also created a suite of products to assist brokerage companies in successfully leading their businesses. These include the TeamWox CRM for efficient finance, sales, and personnel management and the advanced Finteza web analytics system.

Our company is committed in delivering high-tech, reliable, and safe products which assist in addressing business challenges and in achieving better results. Special attention is paid to the associated infrastructure. The best evidence of this is the world's largest community of algorithmic traders MQL5.community. The web portal features a unique knowledge base and provides access to a plethora of various services for traders, including the Trading Signals, the Market of trading robots and indicators, a free library of trading applications, and the Freelance service.
Download MetaQuotes Media Gallery
Finteza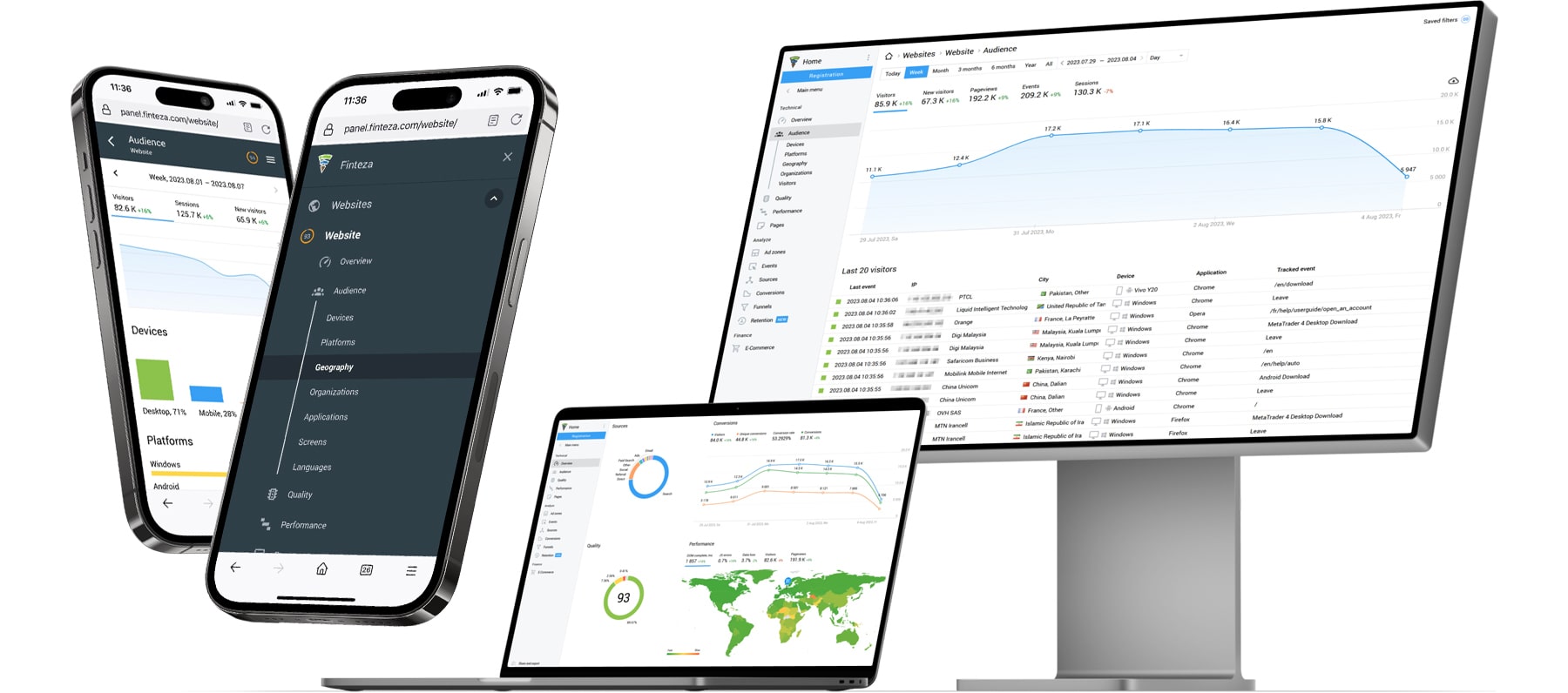 Finteza offers advanced analytics and can boosts your web projects. Being the only analytical service natively integrated with MetaTrader 5, it requires no additional setup, providing instant insights on your web performance.
Finteza collects 15 real-time website and traffic reports, including e-Commerce and Retention. The service assists in the comprehensive resource audit, showing traffic source statistics, measuring resource performance metrics, building conversion funnels, and analyzing visitors with the bot-detector tool to spot potentially harmful activities. The application algorithms do not slow down web projects. Furthermore, they avoid data sampling techniques and maintain a high degree of data reliability.
Finteza is the ultimate service to assist in understanding your audiences.
Download Finteza Media Gallery
Usage Terms
Please feel free to use any material from the media gallery, by following a few guideline.
We kindly request that you:
Refrain from altering colors or fonts in logos and images
Maintain the original layout of logo elements
Preserve original image aspect ratio when resizing
Avoid adding extra elements to logos and corporate identity elements