TeamWox is a highly efficient and easy-to-install multi-functional enterprise management system. Within a single information environment of TeamWox, you can optimize the effectiveness of your company, make business processes more transparent, and speed up the management decision-making process. TeamWox is an analogue software as any Customer Relationship Management software is, although it provides a far more versatile functionality. Access from a browser over a secure connection allows controlling all business operations from anywhere in the world.
The TeamWox basic package provides effective business automation solutions, such as a unified client base, electronic document management, sales funnel, Service Desk for your help desk service optimization, and a free IP telephony feature. With TeamWox, issues such as bureaucracy, inefficient collaboration or low productivity are eliminated. Improve businesses management with TeamWox.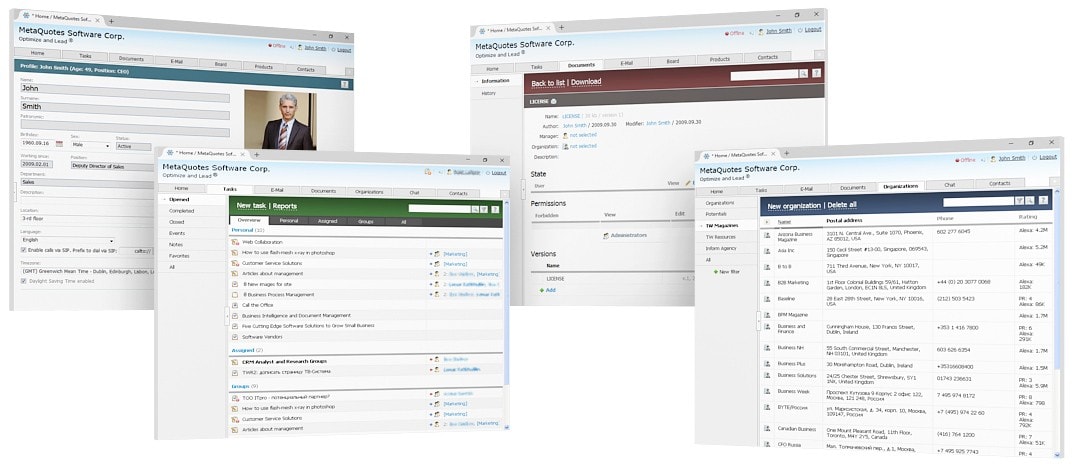 The TeamWox system is available for free for ultra-small businesses employing up to 5 persons. Download the system now, create accounts for your staff members, and transfer your company's internal activities to it. Start using the system now to discover the benefits of TeamWox for business. Furthermore, while business grows additional licenses are available for sale.
Advantages of TeamWox
One-stop business information storage. All business information including emails, documents, files, payments and chats are stored in one place. Through convenient and unified data storage, TeamWox maintains a full transparency of sales process, while preventing information leaks outside the company.


Client management options with the feedback feature. TeamWox provides a variety of tools for receiving customer feedback. Integrate Online Assistant and Service Desk to a website for the best customer service practice.


Efficient document management without bureaucracy. TeamWox stores electronic forms of all documents linked to customers. With systematized information, there is no need to waste time searching through hips of documents — everything is available within a single information environment.


Sales reports and outstanding balances. TeamWox provides advanced methods for efficient financial monitoring. The system records all payments made by clients and their outstanding balances, as well as issues invoices and registers payments automatically. The full financial information of any client can be accessed anytime and anywhere.


Effective internal PR. TeamWox features convenient options for communicating business vision to company's employees, motivating them or receiving their opinion. No need to publish corporate newspapers, send internal mails or hold long meetings — with TeamWox outlining the company's agenda and sharing latest events is as easy as never before.