The Trading Signals (copy trading) service, which enables automatic real-time copying of trading operations from one trading account to another, is available straight from the MetaTrader platform. The service principle is simple: a trader provides public access to the deals he or she executes on financial markets, while other users can subscribe to this signal. The signal provider's deals are automatically executed on subscribers' trading accounts.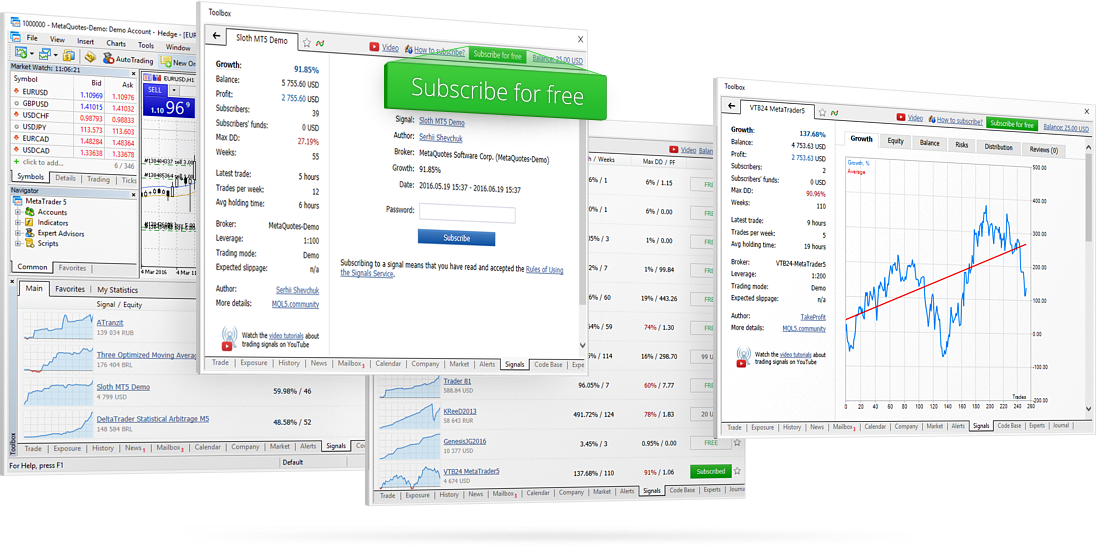 Thousands of free and paid signals are featured on the Signals tab of the MetaTrader platform. For convenience, all signal providers are sorted by their trading results and are provided with detailed statistics, growth, balance and equity charts, as well as full trading history. Choose the desired signal and subscribe to it — and all the professional trades will appear on your accounts! The first one thousand signals sorted by rating are featured on the platform's showcase, while the full list of signal providers is available on the MQL5.community website.
According to the service rules, all signal providers are carefully screened for credibility. If a provider's results over the previous month are far from satisfactory, this signal will not be featured in the showcase.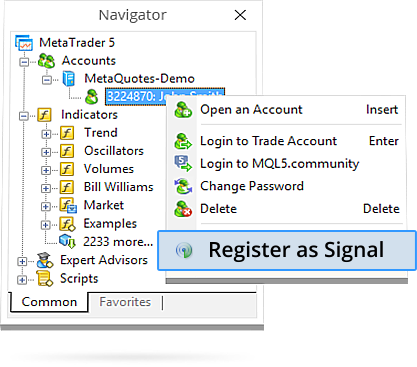 Additionally, the Trading Signals service enables successful traders to earn extra income on a regular basis by selling signal subscriptions to thousands of users around the world.
The built-in MetaTrader Copy Trading service is beneficial to both signal providers and their subscribers. Signal providers receive fixed monthly subscription fees, while signal subscribers automatically execute trading operations of professional traders on their accounts.
Download MetaTrader 5 and subscribe to a signal of a successful trader