The MetaTrader 5 multi-asset institutional platform is a perfect solution for starting up a brokerage or expanding existing business operations. With MetaTrader 5 you can organize comprehensive brokerage services in a variety of financial markets including Forex, stock exchange and Futures markets.

MetaTrader 5 is a full-cycle system featuring all the necessary components for operating a brokerage business. The flexibility, ease of use and device compatibility are provided through the advanced trading components, which include the desktop, mobile and web terminals. The MetaTrader 5 platform supports White Label licenses, provides enhanced back-office functionality, connectivity gateways for exchanges, liquidity providers, as well as various APIs for integration with your website, trading and post-trading systems.

A Multi-Asset Platform
Start your brokerage business with MetaTrader 5, and provide traders with the most powerful platform for trading on key financial markets. The platform supports the netting system for exchange traders and the hedging option for full-fledged Forex trading. The flexible trading system with Market Depth and support for all order types, enables traders to execute any trading strategy.
In addition to the outstanding trading functions, MetaTrader 5 incorporates professional technical and fundamental analysis tools for all asset classes supported. The platform ecosystem also equips traders with advanced algorithmic and social trading functionality.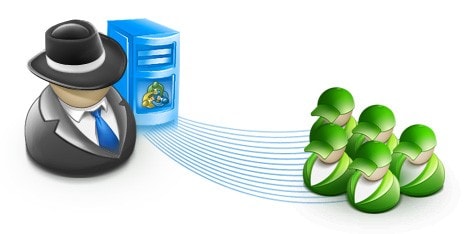 White Label Programs
MetaTrader 5 offers wide opportunities allowing you to expand brokerage business through affiliate programs and other financial institutions. With the platform a full range of operational services to Introducing Brokers (IBs) via the White Label program is available along with a full-fledged commissioning system. Additional partner programs that can be offered through MetaTrader 5 include Direct Market Access (DMA) and liquidity services.
Enhanced Back-Office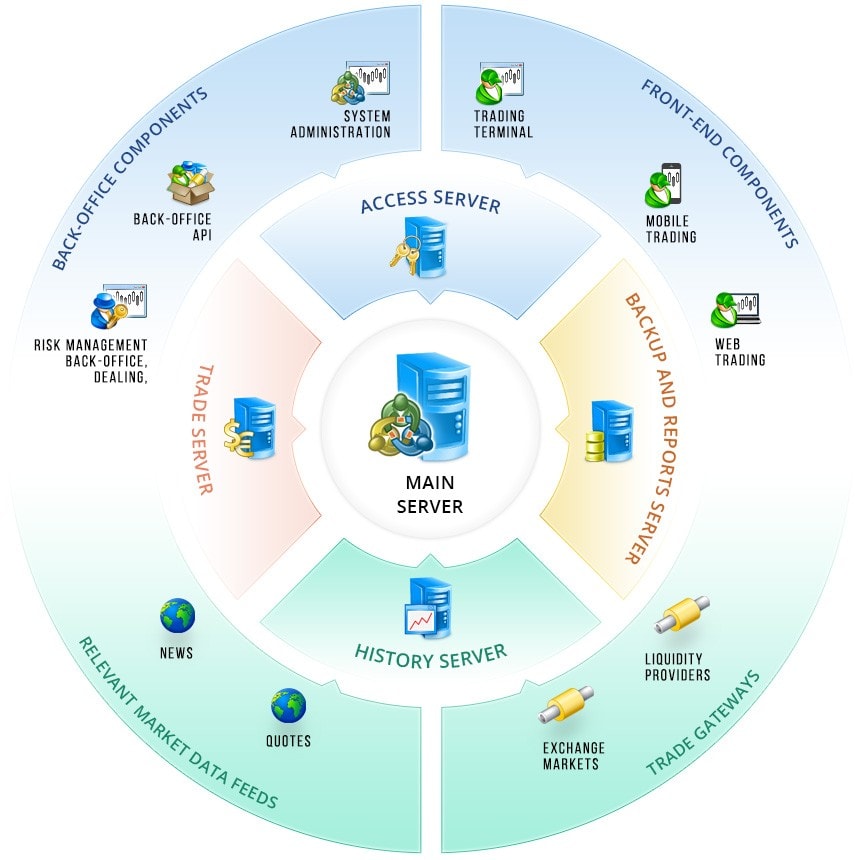 The MetaTrader 5 ecosystem is designed to ensure maximum flexibility for your business. System configurations and parameters allow you to arrangeme the platform operation according to business specific objectives.
The MetaTrader 5 is designed to support multiple business models. In the platform, you can assign role-based managers (e.g. accountants, administrators, dealers, risk managers, etc.) as well as effectively control trade conditions, such as margin requirements, contract terms, credit limits, swaps, trade sessions, spreads, markups, commissions, and other trading parameters.
The platform provides preventive mechanisms to reduce risks, and tools for automatic monitoring of technological, financial, margin (credit/limit) and operational risks. MetaTrader 5 supports a variety of risk management tools for all asset classes to meet the requirements of different business models.

The platform allows the configuration and adjustment of settings according to the operations, as well as regulatory and structural requirements of your dealing desks. Such infrastructure provides for access permissions of different levels (for example, the assignment of senior dealers, dealers, risk managers, etc), and supports multi-dealer operations for different client groups and market segments. The platform also provides full operative control of all open positions, orders, incoming requests and more.
The platform capabilities can be further expanded with the MetaTrader 5 Application Programming Interfaces (APIs). The APIs can be used to customize MetaTrader 5 components, complement their functionality or integrate the entire platform with trading and post-trading systems.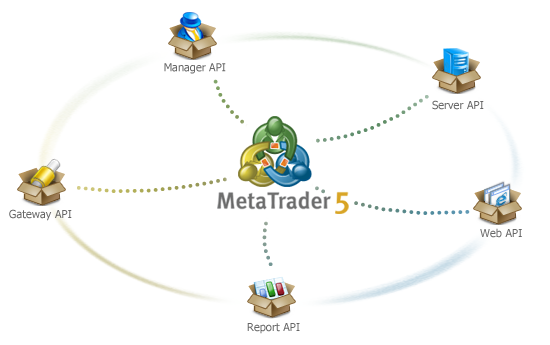 Gateways for Connection to Exchanges and ECN
MetaTrader 5 delivers complete solutions for integration with popular liquidity providers on the Forex market and enables direct connectivity to global financial exchanges. All gateways are easy to operate. They ensure exceptional control and flexibility for any business.
A gateway is an integrated solution that enables brokers to instantly hedge their risk through a direct interaction with other MetaTrader 5 brokers. Using the gateways, brokers can provide traders access to various financial exchanges through other exchange participants.
Performance and Security
Superior performance and speed characteristics allow serving more traders setting for lower requirements on the hardware. Today MetaTrader 5 is one of the fastest, efficient and cost-effective trading platforms in the world.
MetaTrader 5 is based on a distributed architecture, where different functions are performed on different servers. This removes architectural limits and allows the performance of the software system to be increased by deploying more servers within the platform. The scalability of the system provides the perfect solution to any growth issues allowing to preserve the highest quality of brokerage services.

In addition, the distributed architecture increases the platform resistance to hacker attacks. Trade servers can be hidden behind multiple access points which will serve like shells. In case of such attacks, trade servers will continue to run in a normal mode, while the information stored on them will be absolutely safe.
The trading platform provides a reliable security system. Data exchange between the system components is performed over an encrypted connection. Built-in advanced authentication and authorization systems provide complete protection of trade accounts. All the system databases are securely encrypted and provided with the backup and recovery options.
You independently deploy our software on your own hardware, as well as maintain your server infrastructure and fully control support and administration. We do not offer SaaS or other similar solutions which would permit even partial external management or third-party control over your company's operations, and thus we have no access to your servers, accounts, or your clients' trading history. MetaQuotes prioritizes user data security and strives to maintain product compliance with the industry's latest safety requirements.
Flexible Licensing Policy
MetaTrader 5 is offered through different license types to accommodate any business model, trading volumes and any future development plans.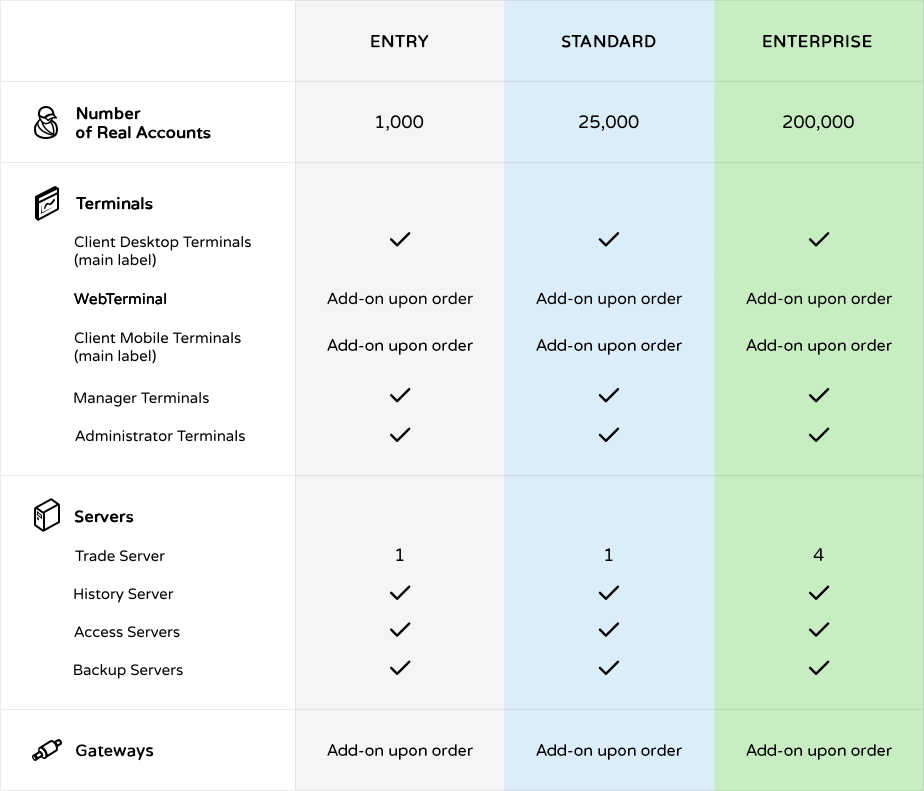 Become a broker with MetaTrader 5 platform