Download MetaTrader 5 for macOS and Linux
We have prepared special trading platform installers quite some time ago. The installer for macOS is a full-fledged wizard with which the app is installed seamlessly, just like a native one. For Linux, we provide a script that can be downloaded and launched with a single command.
The installers perform all the required steps: they identify the user's system, download and install the latest Wine version, configure it, and then install MetaTrader inside it. All steps are completed in the automated mode, and you can start using the platform immediately after installation.
The installer links are available on the https://www.metatrader5.com website and in the trading platform's Help menu: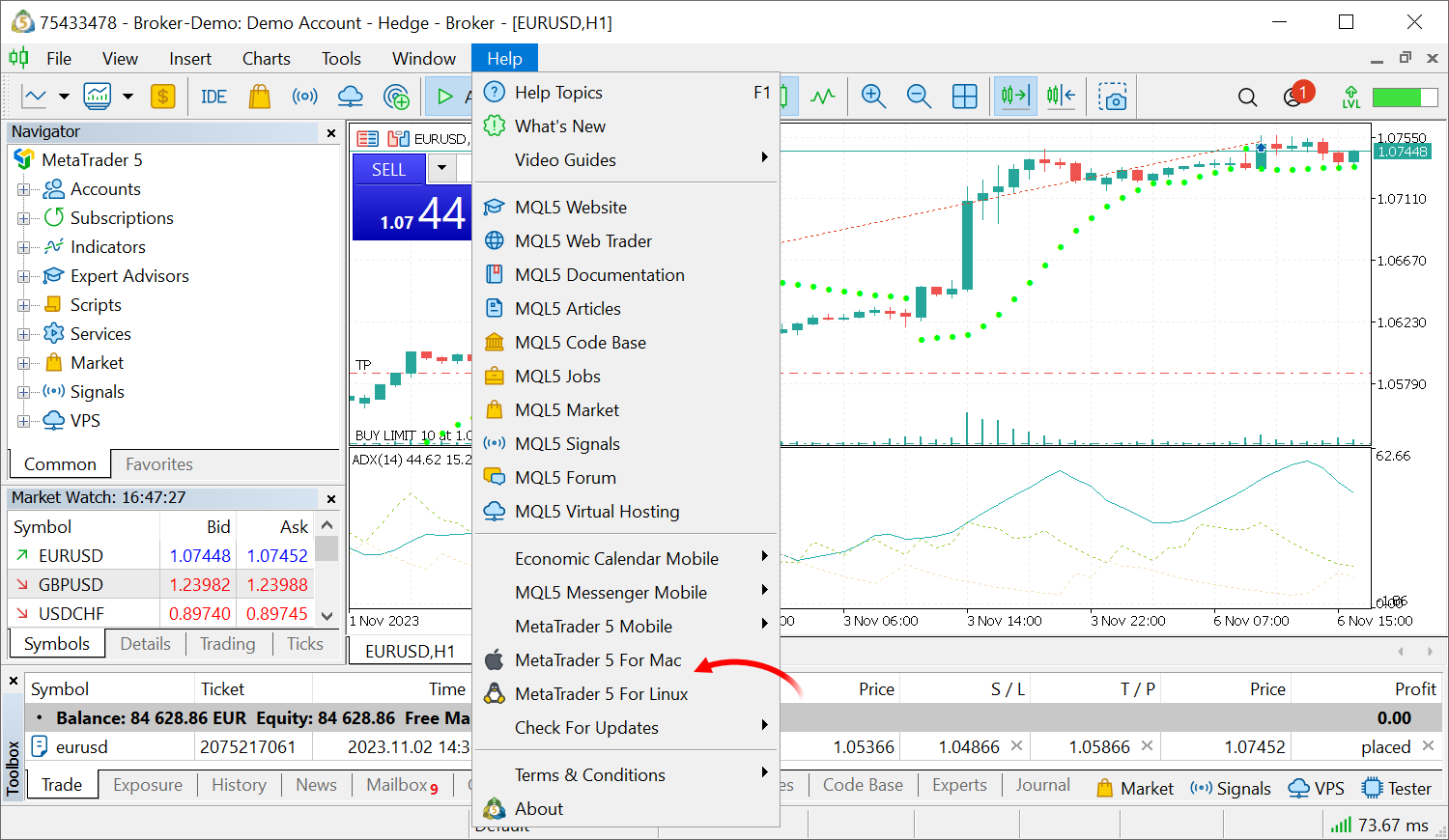 For macOS: Check your Wine version
We have recently completely updated the macOS installer, incorporating numerous improvements. If you are already using MetaTrader on macOS, please check the current Wine version, which is displayed in the terminal log upon startup:
LP 0 15:56:29.402 Terminal MetaTrader 5 x64 build 4050 started for MetaQuotes Software Corp.
PF 0 15:56:29.403 Terminal Windows 10 build 18362 on
Wine 8.0.1
Darwin 23.0.0, 12 x Intel Core i7-8750H @ 2.20GHz, AVX2, 11 / 15 Gb memory, 65 / 233 Gb disk, admin, GMT+2
If your Wine version is below 8.0.1, we strongly recommend removing the old platform along with the Wine prefix in which it is installed. You can delete the platform as usual by moving it from the "Applications" section to the bin. The Wine prefix can be deleted using Finder. Select the Go > Go to Folder menu and enter the directory name: ~/Library/Application Support/. Go to this directory and delete the following folders based on the installed MetaTrader version:

~/Library/Application Support/Metatrader 5
~/Library/Application Support/net.metaquotes.wine.metatrader5

~/Library/Application Support/Metatrader 4
~/Library/Application Support/net.metaquotes.wine.metatrader4

After that, reinstall the terminal using our installers.
During the process, you will be prompted to install additional Wine packages (Mono, Gecko). Please agree to this as they are necessary for proper functioning.
The minimum macOS versions are Big Sur for MetaTrader 4 and Mojave for MetaTrader 5.
You no longer need to search for manual installation instructions or use third-party solutions. You can install the platform in a couple of clicks and instantly start trading: